An Interview about Belonging with Cecile Dejoux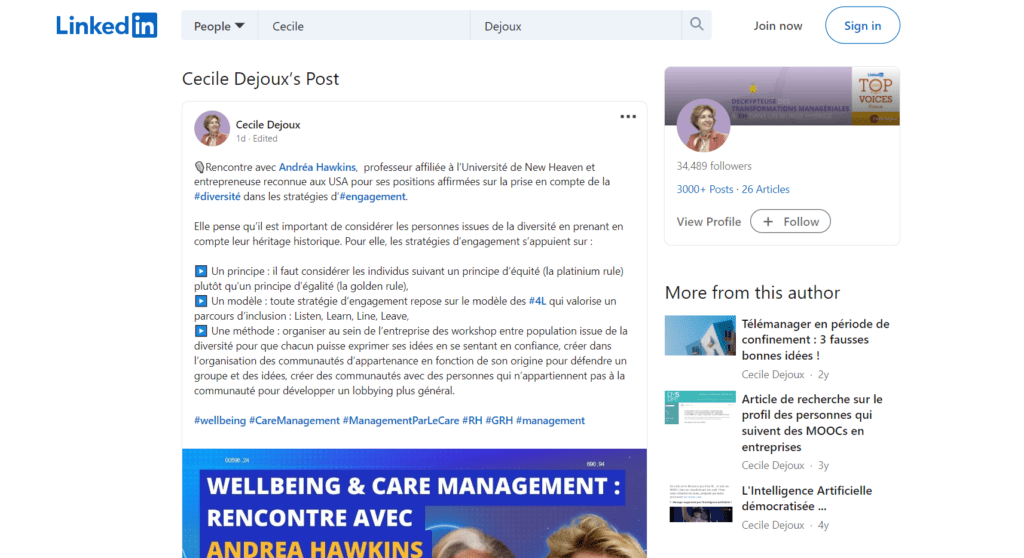 English Translation:
Meeting with Andréa Hawkins, professor [previously] affiliated with the University of New Heaven and entrepreneur recognized in the USA for her [bold] positions on the consideration of #diversity in #engagement strategies.

She thinks it is important to consider people from diverse backgrounds taking into account [history]. For her, engagement strategies are based on:
·	A principle: individuals must be considered according to a principle of equity (the platinum rule) rather than a principle of equality (the golden rule),
·	A model: any [DE&I] engagement strategy is based on the #4L model which promotes an inclusion journey: Listen, Learn, Lean-in, Live,
·	A method: organize workshops within the company between people from diverse backgrounds so that everyone can express their ideas while feeling confident, create within the organization communities of belonging according to their origin to [share different] group ideas, create communities with people who do not [feel they] belong to the community to develop more general [support and inclusion].

https://www.linkedin.com/posts/ceciledejoux-management-transformation-innovation_90-wellbeing-care-management-andrea-activity-6988725654355640321-5RNx?utm_source=share&utm_medium=member_ios